COMMERCIAL CARPET CLEANING PERTH
Best commercial carpet cleaners in Perth, where quality service and reliability are paramount. Tailored to fit every client's specific needs, Commercial Carpet Cleaning Perth stands as the only exclusive office carpet cleaner in WA. Our rates start at $165.00.
GET YOUR OFFICE CARPETS CLEANED BY EXPERIENCED CARPET CLEANERS
Need a professional carpet cleaner today? Call the Commercial Carpet Cleaning Perth team now on 0460 815 038. We are open 7 days a week.
Carpet stain removal specialists. Quality work assured.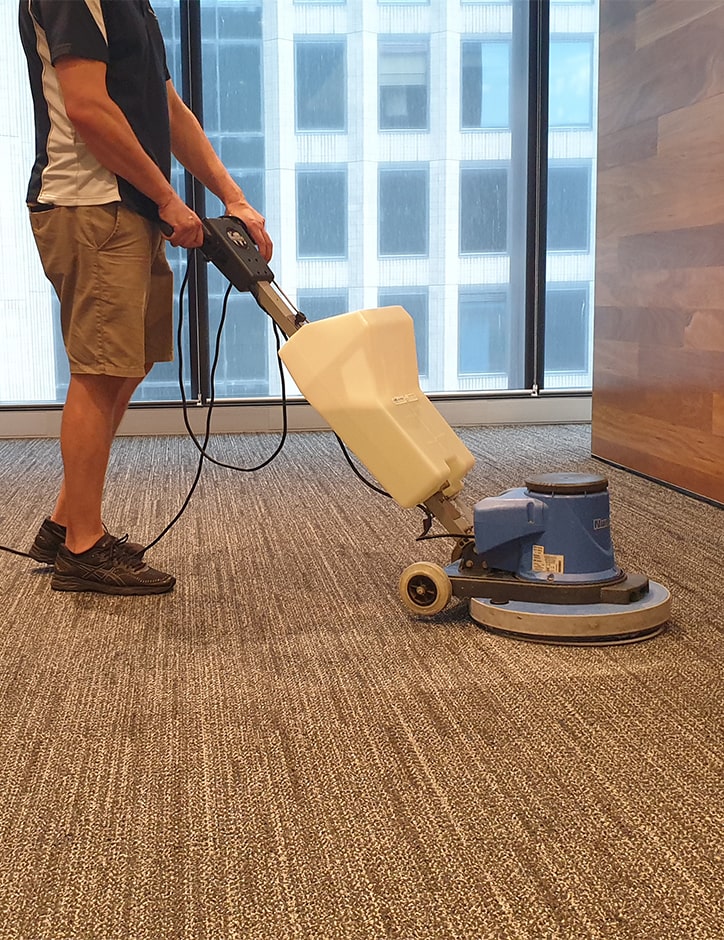 PROFESSIONAL

COMMERCIAL CARPET CLEANING IN PERTH,

TAILORED SOLUTIONS FOR EVERY BUSINESS
Welcome to Commercial Carpet Cleaning Perth, your premier destination for top-notch commercial carpet cleaning services in Perth. Our reputation as the best commercial carpet cleaning company in the industry is not just a claim; it's a commitment we fulfill with every project we undertake. Specializing in both office carpet cleaning and broader commercial carpet cleaning, we offer a unique blend of quality and efficiency.
Concerned about the cost? With us, you don't have to be. Although we are not your average budget carpet cleaner in Perth, our carpet cleaning pricing is competitive and fair. We believe in offering top-quality service at reasonable prices. Should you consider us as your preferred Perth carpet cleaner, you are choosing affordability through transparency and honest pricing.
Our business model is not just about getting the job done, we are about getting it done right. We specialize in a range of services, including carpet steam cleaning, dry cleaning, and low moisture cleaning processes, tailored to extend the life and beauty of all carpets we clean. Our team, seasoned in the best commercial carpet cleaning practices in the industry, is committed to delivering results that not only meet but exceed your expectations.
Understanding that each business has unique needs, we are one of the few carpet cleaners in Perth that truly tailors its services in order to provide personalized, effective carpet care. Whether it's a bustling office or a high-traffic commercial area, our office & commercial carpet cleaning services are designed to meet the diverse demands of different environments.
Apart from routine commercial carpet cleaning, we offer a suite of specialized services to tackle every unique challenge your carpets might face. From stubborn stains to high-traffic wear and tear and water damage, we do it all. Emergency calls? Not a problem! Our team is equipped to handle it all, ensuring your space isn't just clean, but a beacon of hygiene and allure. Choose us for your carpet cleaning  in Perth, and experience the difference that comes with working with the best in the business. Let us transform your carpets, enhancing the overall ambiance of your workspace.
WHAT SETS APART

COMMERCIAL CARPET CLEANING PERTH

FROM OTHER CARPET CLEANERS
Our dedication to offering best domestic & commercial carpet cleaning services and unmatched value to our esteemed clientele is unwavering. Every fiber of carpet we clean reflects our passion, precision, and commitment to the craft. Our robust customer satisfaction guarantee isn't just a promise; it's a reflection of our undying commitment to upholding the highest standards of excellence in what we do.
We firmly believe that every carpet deserves meticulous attention and care. Cleaning carpets isn't just a task for us; it's an art. Patience is our mantra, ensuring that every inch of your carpet is treated with the respect and thoroughness it deserves. We stand firmly against cutting corners, ensuring that every project we undertake is executed with utmost precision. In the vast landscape of professional carpet cleaners in Perth, you'll notice a significant variation in both pricing and quality from one cleaner to another. While quality of work and prices may fluctuate, our commitment to delivering top-tier quality at reasonable rates remains steadfast.
If you're seeking a transformative difference in the appearance and hygiene of your home or office carpets, reach out to Commercial Carpet Cleaning Perth. Call Zoran on 0460 815 038 for an obligation free carpet cleaning quote.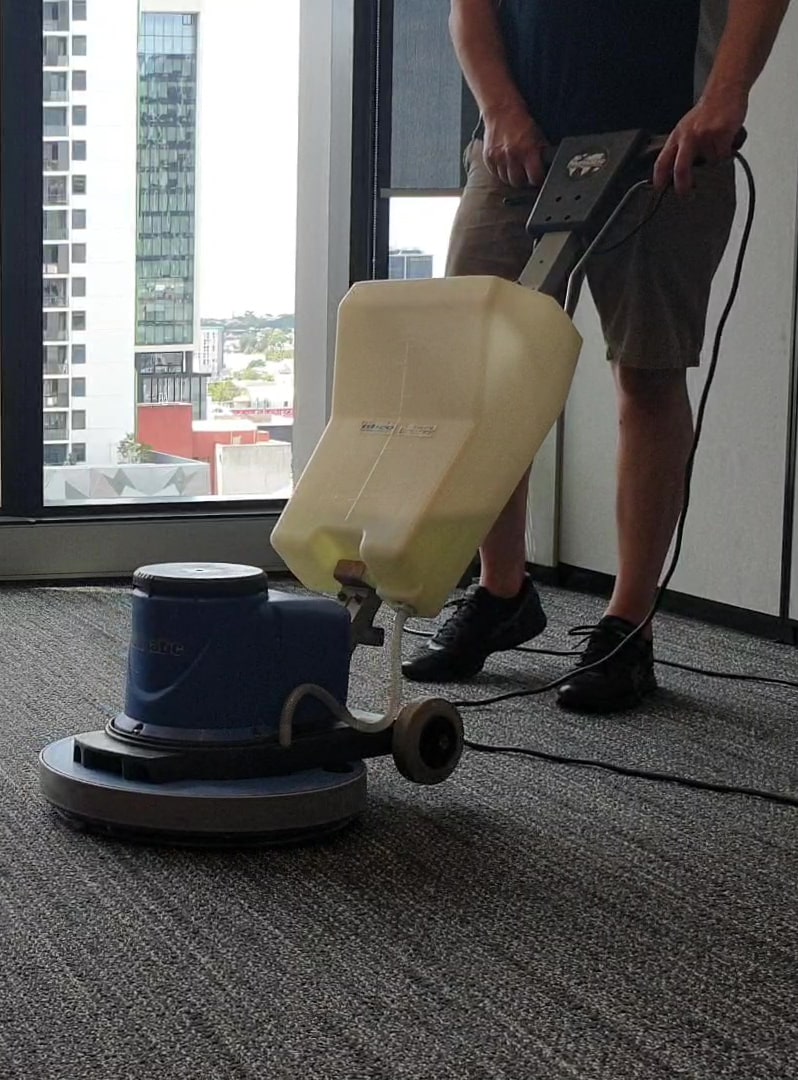 OFFICE CARPET CLEANING

AT ITS BEST WITH

COMMERCIAL CARPET CLEANING PERTH
The significance of being able to apply multiple carpet cleaning techniques cannot be overstated. It ensures that every carpet, regardless of its type, condition, or the nature of its stains, receives the most appropriate and effective cleaning treatment. Using an incorrect cleaning method can not only result in inadequate cleaning but may also lead to further damage or reduced lifespan of the carpet. Professional carpet cleaners, therefore, must be equipped with a range of methods and the knowledge to apply them correctly.
Whether it's the resilience of daily foot traffic or the challenge of stubborn stains, our array of cleaning techniques is designed to address every scenario. By choosing the most effective method for each carpet, we not only achieve a deeper, more thorough clean but also avoid the pitfalls of inadequate cleaning or potential damage to carpet fiber. Trust us to bring out the best in your carpets, combining expertise with the right approach for unparalleled results. Let's take a look at the carpet cleaning methods we have on offer.
Carpet Steam Cleaning: Utilizing the power of hot water extraction, our Carpet Steam Cleaning method penetrates deep into the carpet fibers, breaking down the dirt, grime, and allergens that have settled over time. The high-temperature steam sanitizes the carpet, while a powerful suction extracts the dislodged dirt, leaving your carpet clean, fresh, and dry in no time. This method is highly effective for regular maintenance of certain office carpets.
Encapsulation Carpet Care: A marvel of modern cleaning technology that encapsulates and crystallizes soil particles into dry residues upon contact. This process is executed with a rotary brush machine that works the encapsulating solution into the carpet, capturing the dirt. Once crystallized, the soil particles are easily vacuumed away, rendering a pristine, chemical-residue-free carpet. This low-moisture cleaning method is exceptionally efficient and ideal for commercial spaces with high foot traffic.
Advanced Carpet Care Solutions: For carpets bearing the brunt of heavy stains and soiling, our advanced approach to carpet maintenance blends the strengths of multiple cleaning techniques. Tailored to the severity and type of staining, this hybrid approach may include pre-treatment, steam cleaning and encapsulation, ensuring a thorough restoration of your carpet's appearance.
In a world of diverse carpet types and unique staining challenges, the one-size-fits-all approach falls short. It's pivotal for professional carpet cleaners to be well-versed in various cleaning methodologies, ensuring that each carpet receives the treatment it truly deserves. Trust our seasoned technicians to determine and execute the optimal cleaning regimen for your carpets, transcending standard cleaning protocols to deliver a superior clean.
COMMERCIAL CARPET CLEANING

QUESTIONS & ANSWERS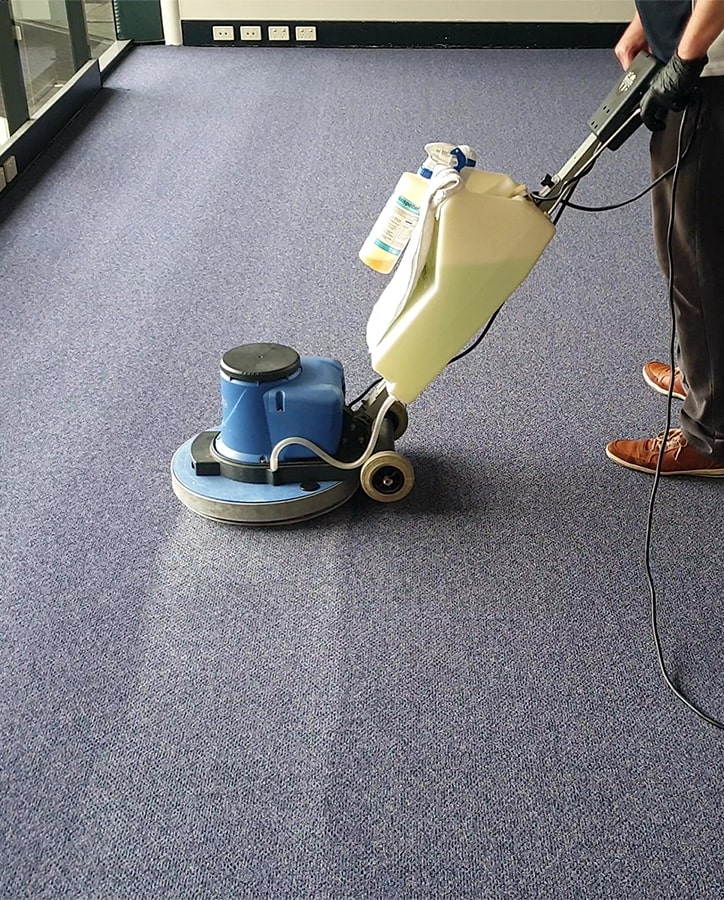 LATEST BLOG POSTS

BY

COMMERCIAL CARPET CLEANING PERTH
WHAT OUR CUSTOMERS'

HAVE TO SAY ABOUT

COMMERCIAL CARPET CLEANING PERTH